One of the seasonal sitings in the lower elevations of the Sierra Nevada is the tarantula spider, a brown creature the size of one's hand that wanders about during the warmest months of the year. From late May (once the temps get up into the 90s F.) these large, hairy spiders can be seen along the windy roads in the foothills, between elevations of 1,000' to 4,000'. I know some of you out there do not like spiders, so I'll make the image small. Click it to make it a proper size.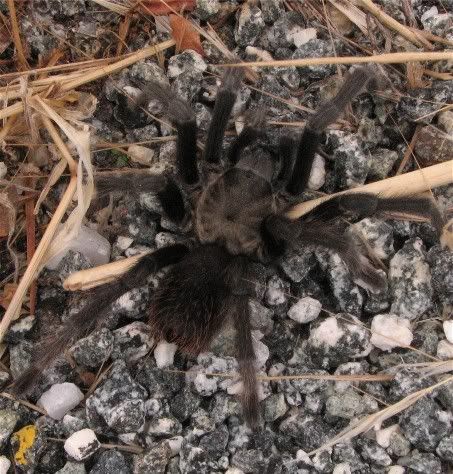 I've lived in the Sierra Nevada for many years, and I am always thrilled when these spiders come out. June and September are typically good months for seeing these creatures, as they wander about during the daytime then, crossing roads in search of something. I have yet to see even one of these spiders so far this year, but they should be visible any day now. Temperatures have been somewhat cool for May and June, and it could be they need a bit more warmth to trigger whatever it is that makes them begin wandering during the daylight hours. Being spiders, they are nocturnal for the most part. Years ago, a naturalist told me they wander about looking for a mate or water. I was also told that Sierran tarantulas eat mostly vegetation. They do have fangs and venom, and will bite if seriously provoked.
One of the most amazing places I've seen tarantulas is on a stretch of country road in the foothills of the Sierras, southeast of the town of Porterville, along the road that winds toward Glenville (a tiny, tiny town). The area is rolling foothills, covered in grasses and oak trees, with cattle grazing on the hills and all sorts of hawks and eagles flying the skies. I have seen as many as 50 tarantulas all out wandering the same 10 mile stretch of road, all at once! Fortunately, I had my camera with me that day and stopped to take a few photos. The spiders pretty much kept walking, and didn't pause at all until I got right on top of the spider, with the camera less than a foot above!